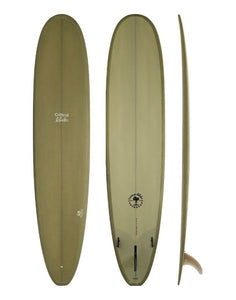 CLICK AND COLLECT ONLY ON ALL SURFBOARDS AND SUPS
Essentially, the All Rounder is designed to be an affordable, user-friendly longboard that's spec'd appropriately for easy riding with an emphasis on stability, control and smooth turning.
OUTLINE: The Allrounder has a very balanced outline, with loads of surface area up front for surfers more capable at nose riding, a parallel mid-section which creates a huge standing zone, & enough taper in the tail to break a line and turn smoothly.
ROCKER: Nice & low through the entry makes for fast paddling, which equates to more waves! Relaxed through the middle, but with enough curve to promote a nice turning arc on the wave face, & finally, there's a little extra lift in the tail to make turning easier for surfers moving up in their abilities
CONTOURS: While most performance longboards have complex concaves for rapid movement & response, The All Rounder has a more simplistic soft vee in the entry & middle, running into vee/double concave through the tail. This is designed to help promote smoother rail-to-rail transitions on a longer board, yet still provide control in steeper sections, & deliver a feeling of pivotal sensitivity when turning right off the tail.
FOIL: Designed with plenty of volume through the nose & tail, and also out towards the rails, providing added stability & making this board simple to ride, regardless of your skill level.
PERFORMANCE: This is the perfect entry level longboard due to the volume allocations, the ease at which it rides, & of course the price. However, more savvy surfers will tap into the true versatile nature of this board & its reliability across so many different types of waves. If you're a traveller, or just like having one dependable longboard in your quiver, this is it.
SURFER SKILL LEVEL: Beginner – Advanced
WAVE HEIGHT: 1-6ft
| | | | | | |
| --- | --- | --- | --- | --- | --- |
| LENGTH | WIDTH | THICK | VOLUME | SUPPLIED FINS | APPROX WEIGHT RANGE |
| 9'0" | 22 3/4" | 3" | 70 ltr | 8" Single | ideal for all weights |